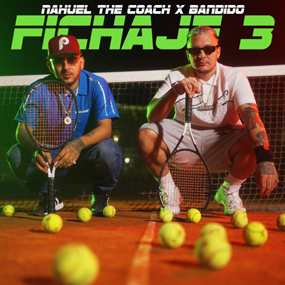 Argentine producer Nahuel The Coach, known for his innovation in urban music, has released his next single, "Fichaje #3," a new collaboration with Maximiliano Villalba, better known as Bandido. The song is available now on digital platforms and on Nahuel's YouTube channel.
This is the third release in the Fichaje series that Nahuel has created in collaboration with various artists, following «Fichaje #1» with El Osito Wito and «Fichaje #2» with Mesita. Now, Nahuel and Bandido unite to create a song that promises to be one of the most successful songs in the genre.
The fact that he could work with Bandido, one of the emerging artists of the moment and pioneers in the genre, has been a very anticipated collaboration for Nahuel. The Argentine producer has very closely followed Bandido's career, and when he presented the project to him, Maximiliano accepted.
Following the tradition of sport, the music video that accompanies "Fichaje #3" is inspired by tennis and was filmed at the court in Temperley, from where Nahuel hails, under the direction of Llamen a Beby. This time, Nahuel created a faster reggaetón, but remains true to his roots, giving a glimpse of his distinctive style, and says: "old school reggaeton is also going to be [in my productions]…And, all of us who make reggaeton try to base ourselves on that style. I think that everyone who makes it specifically pursues that sound. That's why it seems like it's always making a comeback in the industry."
"Fichaje #3" is now available on all digital platforms and on YouTube.